The beautiful image of Our Lady of Fatima was designed by famous sculptor José Thedim in 1947. Sister Lucia herself instructed him, and later remarked that she had never seen any image which so resembled the actual apparition of Our Lady.
The Bishop of Fatima entrusted the image to John Haffert, co-founder of the Blue Army, and prayed that Mary herself accompany the statue wherever it goes. It has traveled around the globe many times for nearly 70 years. In 2014, the statue was placed under the auspice of the World Apostolate of Fatima, USA and continues its pilgrim journeys today.
An uninterrupted flow of graces and favors have been reported wherever the statue has traveled, including physical cures (which can only be officially pronounced by Church authorities), and numerous conversions.
The purpose of the Pilgrim Virgin Statue tours was and still is to bring the graces of Fatima and Our Lady's message of hope, peace and salvation to those many millions of people who may never have an opportunity to make a pilgrimage to Fatima itself.
Archdiocese of Cincinnati Tour
November 4 @ 3:00 pm – November 5 @ 7:00 pm EDT

Cathedral Basilica – Cincinnati, OH
November 6 (Election Eve)

11:00 am – 4:00 pm EST

Immaculate Heart of Mary – Cincinnati, OH
November 6 @ 7:00 pm – November 7 @ 8:00 pm EST (Election Eve and Election Day Pray for Issue 1)

St. Gertrude, Cincinnati, OH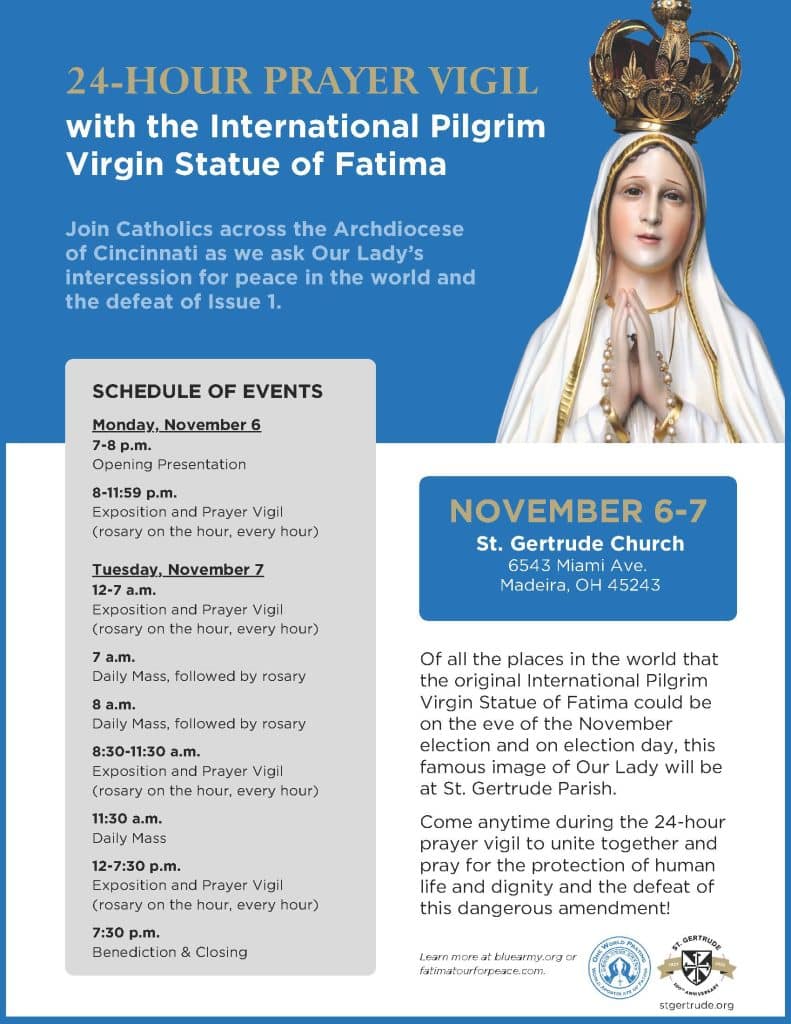 November 9 @ 8:00 am – November 10 @ 6:00 pm EST

St. Susanna – Mason, OH
November 11 4:30 pm – 7:00 pm EST

Corpus Christi – Dayton, OH
November 12 9:00 am – 3:00 pm EST

Our Lady of Mercy, Dayton, OH
November 12 @ 5:00 pm – November 13 @ 10:00 am EST

Immaculate Conception – Dayton, OH
November 14 12:00 pm – 3:00 pm EST

St. Joseph – Dayton, OH
November 15 1:00 pm – 6:00 pm EST

Maria Stein Shrine of the Holy Relics, OH
November 16 8:00 am – 7:00 pm EST

St. Monica/St George – Cincinnati, OH
November 17 10:00 am – 10:00 pm EST

St. Julie Billiart – Dayton, OH
November 18 12:00 pm – 8:30 pm EST

St. Ann Groesbeck – Cincinnati, OH
November 19 8:45 am – 5:00 pm EST

Our Lady of Victory – Cincinnati, OH